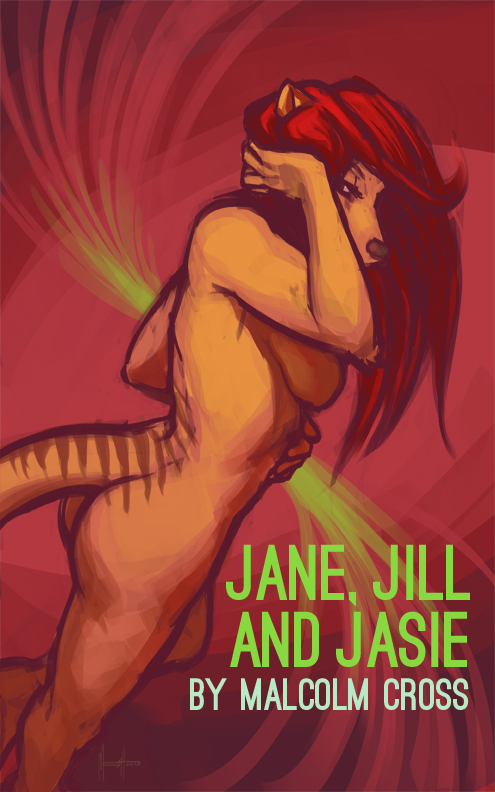 Jane, Jill and Jasie
Three short stories by Malcolm Cross

Being the beautiful, exotic girl is supposed to be a bed of roses, but this bed is lined with thorns. In these three short pieces of erotica about a sisterhood of furry clones from the city of San Iadras, discover just what it means when your beauty isn't your own, but something you were designed to have.
•
Dick and Jane: Jane's got it all — a good job, great looks, and the best boyfriend in the whole wide world. Of course she was made that way, genetically engineered in a lab and designed to be beautiful. But as for her boyfriend, Richard? Jane's about to find out more than she ever wanted to about her relationship with him.
(~8000 words)
Jill's Forty-Ninth: After forty-eight one night stands, Jill's got her routine down to perfection. Some guys aren't into furries, but she can set those aside and find the exact prey she's hunting for: Men with enough money to turn her weekends into heaven. But her forty-ninth doesn't go to plan. Dell, an awkwardly charming and affluent furry, wants a relationship. Jill wants her fiftieth. And neither wants to compromise.
(~8000 words)
Jasie's New Start: Jasie never had it all. In fact, it felt like everyone around her made sure she never had a thing. They accused her of being a failure, that her relationships were superficial and her heart hollow. They said things worse than that, but she doesn't have to put up with it anymore. No, she's going to leave it all behind, and get things right this time. She's going to have her new start, and nobody can stop her.
(~3000 words)
•
Jane, Jill and Jasie is available from BadDogBooks in multiple formats (ePub, Mobi, PDF), or on Kindle from Amazon (US), (UK).
•
Dick and Jane originally published in Heat, Volume #6, from Sofawolf Press
Jill's Forty-Ninth originally published in Heat, Volume #8, from Sofawolf Press
Cover art by Meesh